Hello, my name is Daniel Lafraia. I am one of the founders of Vagalume (launched in 2002), one of the most popular music website in Brazil, along with Ana Letícia Torres we started the website while we were living in Atlanta.
I also have other projects like Panda Video (2021) a video hosting platform and Iron Internet (1996) an Internet Service Provider.
My life with the Internet began in 1993, when I had a BBS at home. At that time, contact with the Internet was only through the exchange of message packets on discussion forums (Fidonet, for example). Shortly after, in 1995, at the age of 17, the first Internet providers began to appear and we decided to set up a family business as Internet Service Provider, Iron Internet.
Iron Internet (1995)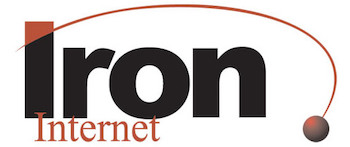 One of the first Internet providers in Baixada Santista, Iron Internet served for a long time to port companies and individuals who wanted access to an e-mail account to replace FAX, widely used for releasing cargo and ships from Porto de Santos.
The dining room at home turned into a rack with external modems and a multiserial connected to a computer running Linux. About 8 phone lines and modems began to light up the room like a Christmas tree.
Then, we moved to an office where we had more capacity to run telephone cables (a big problem for providers at the time, with dial-up). We even had the capacity for more than 100 telephone lines in a commercial room. The building staff didn't understand what we were doing. An Iron advertisement at the time shows what life was like before online marketing.
Iron Internet is still up and running with thousands of customers even after the merge with Bignet and provides services like domain hosting, wireless access, VoIP and other things.
I try to keep up with open source projects such as some rules in portuguese against spam which was (maybe still is) useful for other Internet service providers.
USA (2000)
My girlfriend Ana Letícia was the one who took me out of my comfort zone and encouraged me to seek this opportunity for an experience outside Brazil. So I accepted a job offer and we went through the work visa process H-1B. We got married a week before heading to the US ready to build a new story.
I had the opportunity to work in a wireless internet provider SkyRunner in the city of Asheville. A few months later, we moved to Atlanta, where I worked for a few years at Earthlink, a large Internet provider where I was able to learn about networks, development, management and the entire organization of a large company.
In the US, I was able to get some Cisco certifications which were CCNA, CCNP, CCDA and CCDP. While it wasn't necessary for the work I did, networking was something I always wanted to learn more about and the certificates showed an organized learning curve. At the time, I took advantage of the company's incentive to buy several certification books. My desk at Earthlink was full of old equipment that I used for study when there was idleness on the projects I was involved in.
In fact, having networking experience was an opportunity because I was able to work as a Senior Software Developer and later move to Network Engineer role.
At that moment, remote work was also beginning. I was able to help my team at Iron Internet in Brazil to organize and implement new features.
Vagalume (2002)
After some time in the US, we remembered that I had a small database of song lyrics that I had put together as a hobby and had posted on a web page. People found this page and emailed new lyrics frequently. It wasn't anything structured, just a page with links to lyrics in simple text format.
Ana Letícia, with a marketing vision, decided to organize this to make a personal project with higher quality and a "friendly" brand. The fact that we are far from Brazil made us think of a name in Portuguese that had nothing to do with music, completely avoiding the obvious music related names. Then came the name Vagalume which means firefly in Portuguese.
Photo taken of sheet with blue kitchen tablecloth background, June 5th 2002, shows a wireframe handmade by Ana Letícia to start building what would change our lives forever. Even without having a complete system running, it's possible to see in this wireframe the ranking, highlights, login, search and other things that are, until today, the essence of what we see on the site.
All this, long before Youtube, long before streaming services and the ease we have today to create websites with frameworks or servers in the cloud.
Our apartment in Atlanta concentrated the first "home office" of Vagalume, with a poster of U2 on the wall, it would be the first band manually registered on the site (the ID in the database is number 1).
Ana Letícia was working fulltime at Vagalume while I was still working for Earthlink. At night, I helped her with programming and providing tools she would be able to organize everything.
After the site was live, we started to earn a little with MercadoLivre and BuscaPé affiliate programs that paid us for sales commissions and registrations on their site. We saw that it was possible to live with the site with a good positioning in search rankings and then we started to plan our return to Brazil.
Back to Brazil (2004)
We realized that there was the possibility of being close to large content portals. This business model allowed us to take a lot of search engine organic traffic (SEO) to our domain and outsource the site's advertising to them. So, we reached agreements with UOL (2005), IG (2009) and R7 (2012 to date).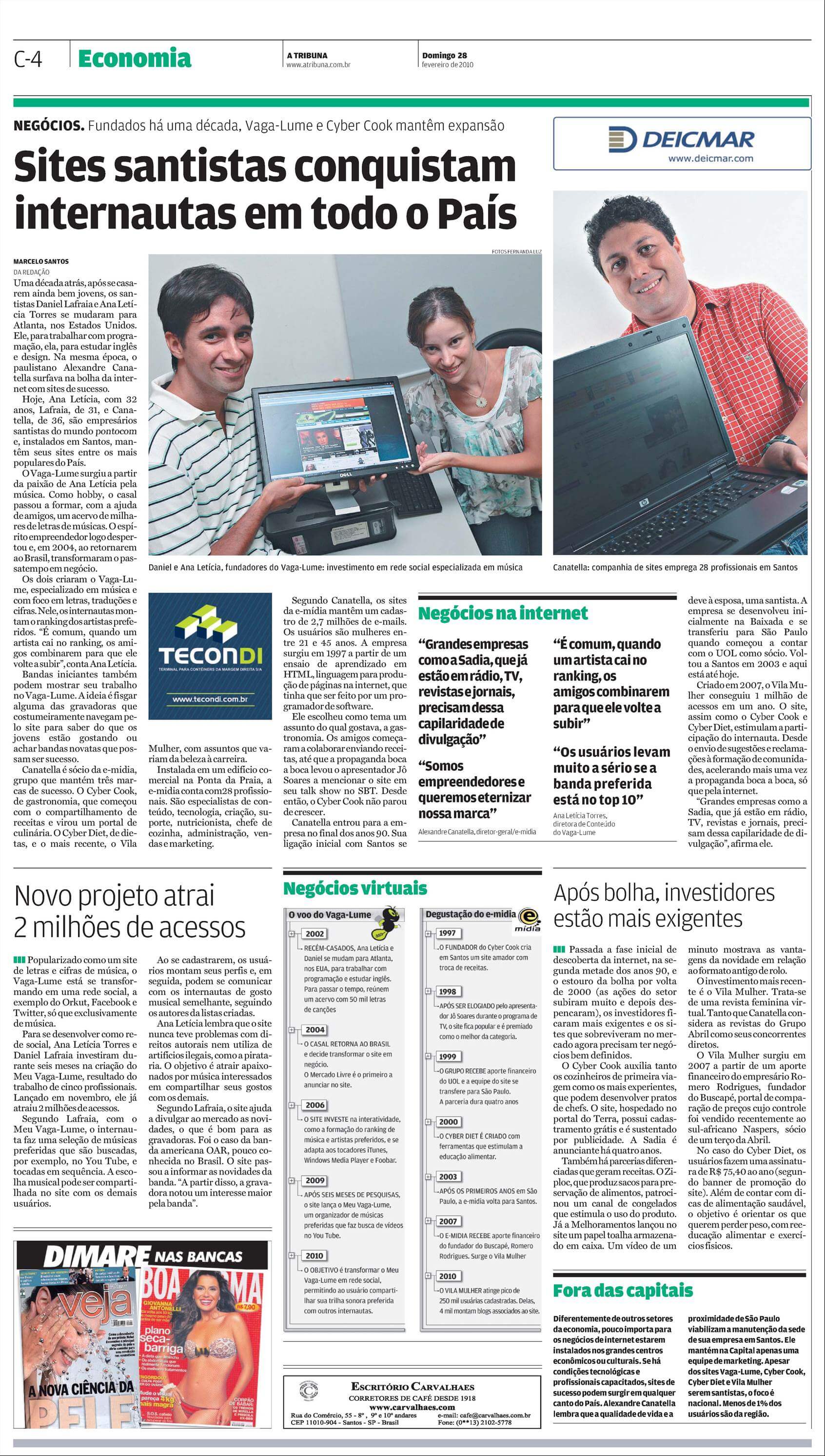 An article in Isto É Dinheiro showed the relevance that large sites have in the audience of portals. They were really important partnerships for the company's growth.
Midia
Over all these years, we have had several stories about our history in the media on TV Tribuna (Globo), TV Record, as well as important projects such as the research All About Music (download the PPT) that showed details of the use of music in relation to brands and people's daily activities.
Interviews with well-known artists such as Ed Sheeran, Jared Leto, Lulu Santos, Dua Lipa and many others shows the relevance of Vagalume, to this day it is impressive how the brand became so popular with so little investment in marketing.
We've always been very low profile, so you shouldn't find social networks with a lot of followers or anything like that. The famous one here is Vagalume, the firefly character we created and became known by many millions of people. We had a few articles like the following ones.
Propaganda Portal (2017) about the launch of the audio recording function of Vagalume.FM and another article about the new commercial team that we organized at the time.
Meio e Mensagem (2016) about the launch of Vagalume.FM and also in 2012 about the partnership with R7.
Startupapo (2014) a series of interviews with some digital entrepreneurs, author Roberto Fermino released a 300-page book with interviews and stories, including ours.
iMasters (2014) about Vagalume Drive, a cloud file storage service for music.
TV Record (2010) Article on TV in Jornal da Record talking about Vagalume going to R7.
TV Tribuna (Globo) (2010) TV article about entrepreneurs in the Baixada Santista region.
Jornal A Tribuna (2010) about the main sites in the region that have become relevant in Brazil.
Isto É Dinheiro (2010) showing the importance of vertical sites such as Vagalume in the audience of portals.
Baguete (2010) creation of a service called TwitDJ that made it easy for people to share songs they were listening to on Twitter.
Jornal do Comércio (2010) on reaching the mark of one million users accessing the site per day.
Jornal A Tribuna (1997) about the beginning of the Internet and Iron Internet in the city of Santos. Perhaps one of the most relevant articles that shows the beginning of my professional journey.
Vagalume.FM (2016)
We launched a streaming service called Vagalume.FM (watch this video) that allows people listen to music from many stations as if it was a radio station. In this way, we were able to compete with popular streaming services with a different licensing mode.
This service is very popular with many thousands of users daily. We provide more than one hundred music stations curated by our team. The launch of Vagalume.FM was featured in an article a relevant media outlet called Meio e Mensagem in 2016.
I was able to learn a lot about the different streaming formats, mainly HLS which also made it possible to use this knowledge in the build of Panda Vídeo (2021).
The main stations of Vagalume.FM are Sertanejo, Vibe, Samba e Pagode, Relaxing Music and many others.
The Vagalume.FM for Android app is one of the most downloaded with over a million downloads. It is also available as Skill for Alexa.
Office in Santos
A beautiful office was no longer necessary in 2018, when a good part of the team was already working remotely. It was a difficult process to give up a place that we made with such affection, but that no longer made sense. Today, the company is completely remote.
Vagalume Relevance
To this day, more than 20 years after the creation of Vagalume, it's amazing to see how people know and use the site. We still have many millions of visitors showing the relevance and credibility created over time. In addition, in 2020 Vagalume was among the 3 most relevant sites in the music category (popular jury and official jury) of the iBest Award, where Spotify was the winner. The selection of the official jury was made by people known in the Brazilian Internet market.
Panda Video (2021)
In a conversation with Christian Barbosa we noticed that there was an opportunity in video hosting for people in the online marketing business. The most popular places like Youtube and Vimeo were not an option for several reasons such as account blocking for high costs and lack of security.
Thus, we set up Panda Video which in a short time would become a reference in hosting videos in this segment in Brazil. Marcos Paulo also joined the partnership.
In 2022, we are opening a Panda branch in US Panda Video USA to also compete in the international market.
To be continued…